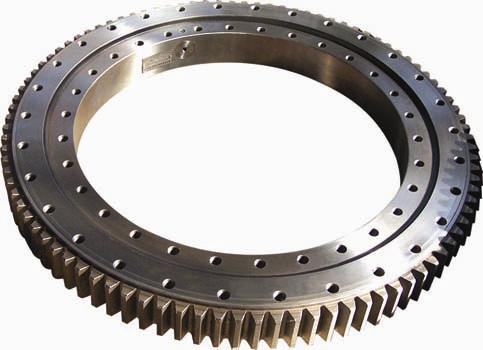 Our factory can manufacture slewing bearings as following according to different structural type: four-point contact ball bearings, double- thrust angular contact ball bearings, cross-cylindrical roller bearings and three rows of cylindrical roller combination bearings, and so on; The above types of bearing can be divided into different structure of non-gear type, external gear type and internal type.
Under normal circumstances, Slewing bearings have their own mounting holes, lubricant holes and seal holes, to meet the different needs of the various host working under the various conditions; On the other hand, Slewing bearings itself have characteristics of compact structure, guide rotating convenient, easy to install and maintaining easily, so it's widely used in lifting & transport machinery, mining machinery, construction machinery, port machinery, missile launchers and other large rotary device.
Slewing bearings depending on the structural characteristics can be satisfied mainframes' demands under different load conditions. Among them, four point contact ball bearings hve a high dynamic load capacity, cross-cylindrical roller bearings have a high static load capacity, cross-tapered roller bearings have greater support rigid and higher rotary precision with its pre-surplus, three rows of cylindrical roller combination bearings because of the raise of carrying capacity id directed to the height of bearing, and different loads are beared from different raceway and roller groups, so in the same force conditions, the bearing diameter can be greatly reduced. So this kind of bearing has feature of more compact in host, and it is a high-carrying capacity bearing.